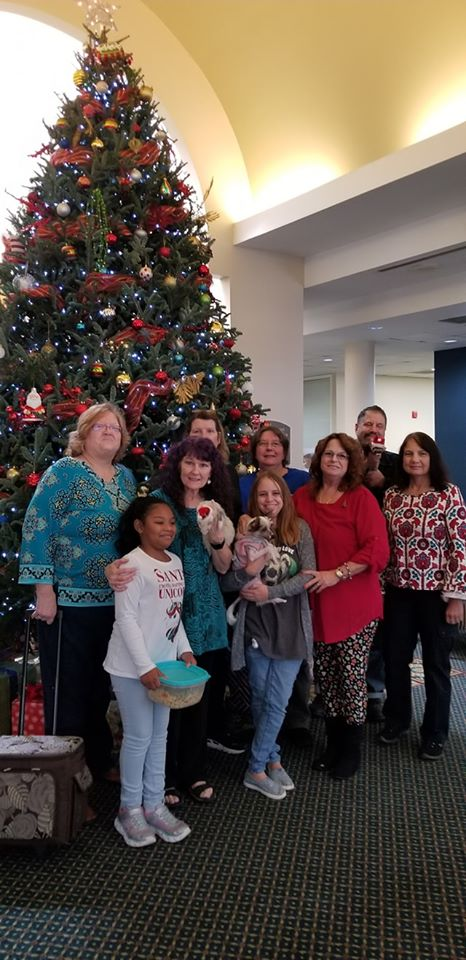 Wow … what a wonderful time we had this past weekend.  Susie Pryon over did herself with decorating the counters for our Christmas lunch.  It was beautiful, and things moved so quickly that I never got a picture of it.  Johnny brought his two ferrety kids, and Morgan brought her new puppy Feathers too.   Food and fellowship was wonderful as always.
Attendees:
Susie
Trella
Margaret
Florence
Morgan
Karen
Johnny
Dyna
Meliah
Gracelyn
Accomplished:
5 – Inside Outside Sleepsacks
10 – Sleepsacks
11 – Hammies
8 – WonTon Flowers
7 more – Inside Outside Sleepsacks made by Lisa
45 – Toys – Made by Lisa
An extra thanks is giving to Trella and Margaret.  They took home bedding that was in different processes, and did the next step so that we could start sewing the moment our machines were set up.  It truly makes a difference to get more accomplished during our sewing days.
Hope to see more people coming each month in the next year.  We can always use the extra help!!  Special hug and thanks to those that have attending so many times this year … it makes such a difference what we can send to shelters in need.
Wishing you all a very very wonderful holiday season, and happy future 2020.