Our Mission: To bring comfort to ferrets everywhere, whether they are in shelters, sanctuaries, or forever homes. To bring peace of mind to ferret owners, foster parents, and shelter parents in knowing that their "tenants" are warm and comfortable. Because, in a failing economy, the last thing these wonderful ferret friends and parents want to worry about is having enough bedding for these wonderful little bundles of fur.
"Joy is first in the making and then in the giving."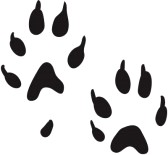 The box of bedding arrived and it's so wonderful and so much more than I expected! Huge thank you to the Crafty Weasels team!! The large, tough hammocks and sleep sacks especially are so perfect for the mink
the ferrets will love these as well! I've taken a few photos to share! Thank you again
The black mink is "Smaug", he was an orphan, found tiny and scared next to his deceased mum. He was super happy to be the one to "open" the package! And is already enjoying several hammocks and a sleep sack!
The creme (palomino) colored mink is Ember. After escaping a fur farm, she was trapped by a man who tried to sell her illegally. Several rescues networked together to get animal control involved, and she was safely delivered to a wildlife rehabilitation facility before eventually being transferred here to MMR. She doesn't really use her cage much, so instead I offered her two sleep sacks and a hammock on the ground & she instantly started running off with them to use them in her nests- she absolutely loves them!
Thank you thank you thank you!
MC
When it comes to fur, mink wear it best.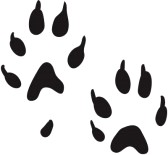 I must apologize things have been running behind around here lately with this thing called life and with kids being sick and we totally just forgot in making a post.
The kids received a package the other day full of new bedding and carrier hammocks and they make your carrier into a very comfortable ride for your kiddos when you have to travel or going into the vet they also got some sets of beautiful sleep sets and the wanton hammocks and they love those cause they can burrow down deep and have a dark place.
The last picture is what Feliks claimed as he loves the extra large sleep sacks as he can just crawl into them and cover up as you know Feliks is crippled and can't climb into a regular hanging hammock so the extra big sacks works well.
We are grateful for such things and would like to take this moment and give thanks to Florence Love and The Crafty Weasels for such a beautiful gift of bedding for these kids here at RRRS.
Folks there's some things that are just special and for us this bedding is special as you can see the pride and love sewn into each stitch and it's tonka truck tough.
Thank you.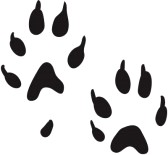 This is the biggest box of the most beautiful bedding I've ever seen!!! I opened the box today, I cried!!!  There are some heavy duty denim and canvas like with fleece that will last a lifetime,! They're gorgeous!!!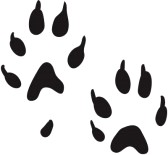 RMMR and all our rescue kids, both mink and ferret would love to thank the Crafty Weasels for their donation of bedding so lovingly made. I tried getting photos whenever I could over the last week, but everyone pretty much told me to go stuff myself as they're too busy being comfy to pose for photos and I ended up with countless bluuuurs.
Bedding made with such love simply cannot be resisted!
Linda Maretich – Rocky Mountain Mink Refuge Utah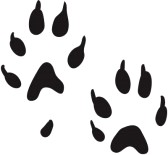 A fantastic treasure trove of snuggle bags, hammocks and toys arrived from Crafty Weasels of GA! Handcrafted love in sizes you don't find at a store. They are AMAZING and appreciated very very much
Connie and Euel Oliver's Freedom Flyer Wheelchairs for Disabled Ferrets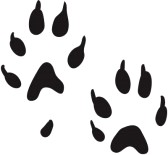 Hi Florence, this is Melissa with Willamette Valley Ferret Shelter. I received the box of bedding. It is all so lovely thank you for the work you guys do to help ferrets. I started purging some of our scrappy bedding and hope to find more time this weekend to get rid of more. You guys are appreciated!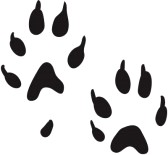 Hi Florence
Our huge box of bedding arrived last night.  Thank you and all the crew for the much needed bedding.  You all are amazing and help so many rescues year after year.
All our permanent resident ferrets and even some adoptable ferrets will be enjoying it.
Thanks so much
Matthew
Ferret Dreams Rescue & Adoption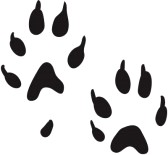 Oh my goodness, I received your box just now and I can't get the smile off of my face. I keep pulling one beautiful item after the next from this huge box. I can't wait to distribute these awesome hammocks,  sleep sacks and toys to my volunteers. They are going to be so excited. Please tell everyone how grateful we are for their hard work and service. It will not go unnoticed, especially as the winter hours are approaching. God bless you all ❣️❣️
Estelle Roberts
Wild Again In Mississippi, Rescue & Rehabilitation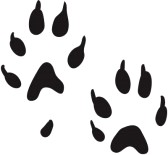 Woo Hoo … thank you so much!!!  WOW!!  I'm sorry it has taken me so long to get to you … I've had a migraine all week and have been out of it.  I honestly didn't know what to expect and I was just BLOWN AWAY!!!  The fuzzbutts thought it was Christmas here … the older ones climbed into the box and snuggled in and sniffed around and then went right to sleep after finding "just the right one" … we've NEVER had ANYTHING like this been given to us before … it brought tears to my eyes.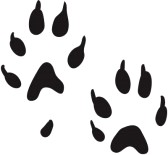 I just want to give a huge thank you to everyone who worked to put this amazing package together for the shelter. It has truly helped.
Thank you all soooo very much
Jessi
Second Chance Dooks Ferret Rescue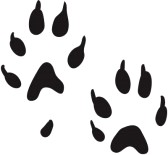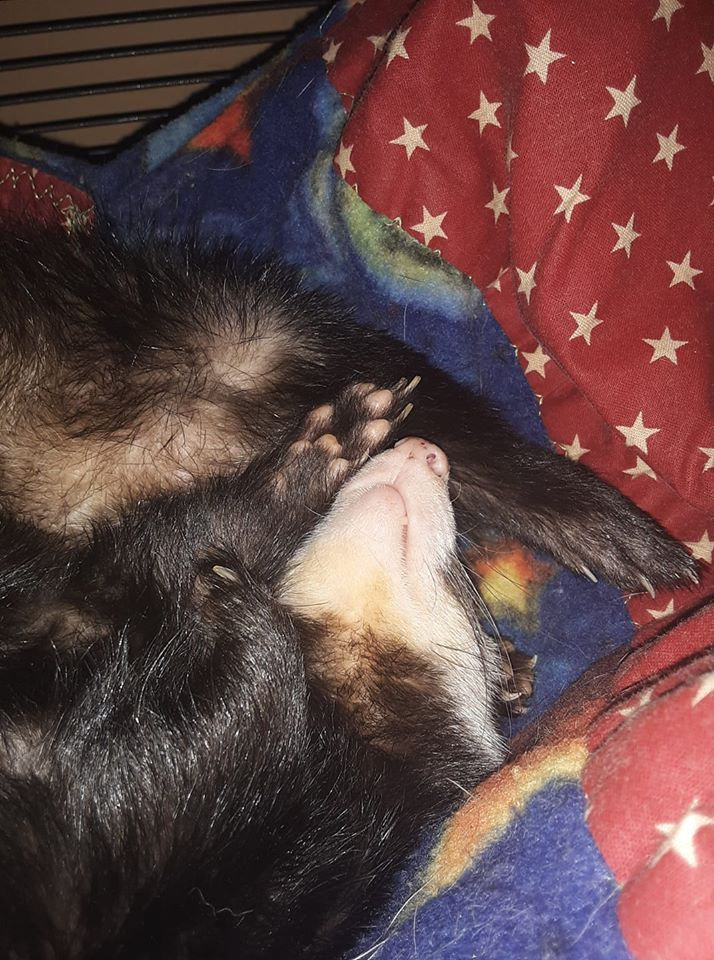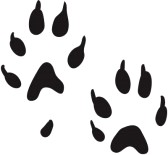 Merry Christmas to our shelter!!! Got the box of goodies this morning … OMG! I actually feel like a kid on Christmas morning! 10 new cage setups….unbelievable! What a fabulous idea on the button hammies for the carriers! I really don't know how to put into words the appreciation I feel for your organization and the wonderful people that help you get this accomplished. You are truly amazing and full of love!
Hugs and kisses to you and all the Crafty Weasels crew! <3  Please let your volunteers know how much we appreciate their time and selflessness.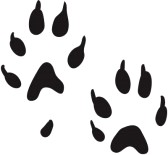 From Marina Ray -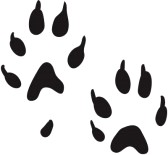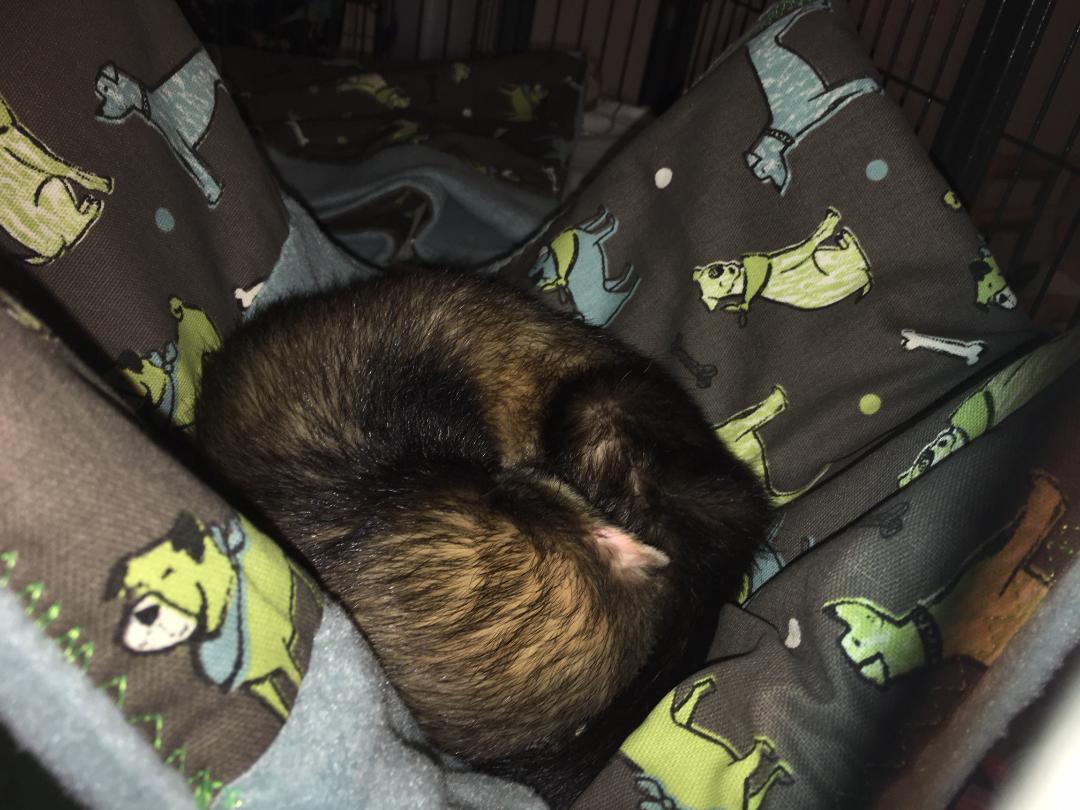 From the Washington Shelter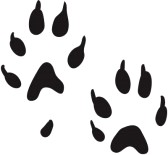 I received the most wonderful box of love today. The ferrets were overjoyed to explore in the box and dig out the new toys!
It was like Christmas!!! Thank you so much for what you do for our furries!!! You are a blessing for our rescues.
Thank you just isn't enough, I love what you do.
Sincerely
Reca
Kirby Kritters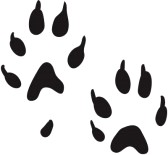 Wow!!! The box arrived. Just wow!!!!! I haven't seen all of the beautiful items but what I have seen is absolutely gorgeous. You can tell you all have so much love for the ferrets and for the humans too. These precious items will be enjoyed oodles and oodles.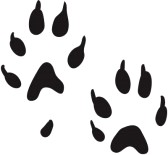 "I received your package yesterday and I'm so so grateful and honored for such a gift for my kids I'm sitting here with tears in my eyes how do you even begin to say thank you for such a wonderful gift I'm truly honored please tell everyone thank you for the beautiful bedding for these kids and that we are truly grateful and honored for such I'm blown away."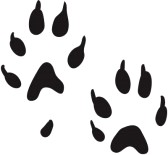 This was a message from Denise Bradley Cummings, from Denise's Delightful Dookers Ferret Rescue, Washington State.
Wow!!!  The box arrived.  Just wow!!!!! I haven't seen all of the beautiful items but what I have seen is absolutely gorgeous.  You can tell you all have so much love for the ferrets and for the humans too.  These precious items will be enjoyed oodles and oodles. The pod hammies/sleepsacks are so enjoyed.  Thank all of you again and again.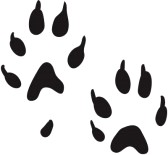 Not sure if you saw my posts on facebook but the bedding box arrived yesterday.  I haven't been able to unpack it because as soon as I opened it I had furry helpers.  First the ferrets were checking out the box, then the cats, then Ebony decided it was the softest bed in the house, then this morning at 4 when I got up, Serena my 23 lb lhasa mix was sleeping in the box on top of the bedding!  I was going to go through it before I left for work but the ferrets were back in it again so hoping tonight I get the opportunity.  From what I did go through, the top bedding and toys, everything is beautifully made and looks so comfy!  Thank you and the crafty weasels group so very much!
    Ferret Family Services
Wamego, KS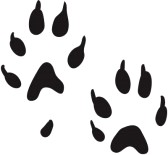 Thanks again to everyone for their amazing effort.
The package arrived today and we are so overwhelmed with not only the quantity but the quality of the fine bedding your group sewed for our rescue.  We cannot thank you enough for all you do for shelters all over the country.
Many blessings to you and all your sewing group
Matthew Jaramillo – Director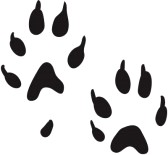 The huge box of beautiful plentiful bedding arrived on Friday. You sent so much! Thank you! Most will be put away till cooler weather and the rest will be used throughout the summer. I put the blue plaid hammock in this morning for Podo our 7.5 yr old blind girl. When it gets cooler I'll put the barrel in her sleeping cage too. She came to me about a year ago because her two boys were not paying any attention to her and she was sleeping most of the time. Her cage is at the head of my bed and she still sleeps most of the time but is doing well. At first she didn't care for other ferrets but two of the oldster girls have managed to sneak into hammocks with her when she is sleeping and she lets them stay. In fact I rarely find her sleeping alone these days. I did put one of the WonTon flower hammies on the floor and Toby (ferret) got it and Ebony (cat) played with him as he moved around under cover. I also put one of the sleep sacks on the floor in the back bedroom. That room gets the warmest in the afternoon and the floow is cool so I'm sure that sleep sack will get a lot of use there.  The cats were very happy with the new bedding as well. They sleep in the ferret hammocks too even though they are too big to fit properly but don't seem to mind that they hang over the sides. The toys are enjoyed by all. The dogs claimed the fabric ropes but it wasn't long before Salem (ferret) found them and toted them down to the basement where he sleeps. Even the box was a hit with the ferrets and kitties who wrestled over who got to get in it! Everyone is free roam and they all share nicely so a big thank you from everyone!Thanks so much from all of us!Warm hugs! tle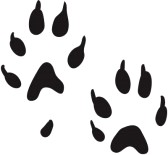 Thank you Thank you Thank you for the wonderful gifts for the kids! Not at all necessary but very appreciated by all. I hung the new wonton immediately and by morning HB ll, Dweasey ll and fat little St.Nick were all crammed together in it. So cute, fatty Nick's butt and little hind feet were hanging out. I don't know why ferret back feet when upside down are so cute to me but they always get me when they're oozing over something and their back feet are the last to slide over/in—–slooowly.In the middle of the night( the sleeping triple midwest ferret nation cage is in our bedroom) I heard somebody rolling around in the new barrel. Probably Dookie. That man loves his barrels.So thank you Crafty Weasels. Brightened my day.Love,L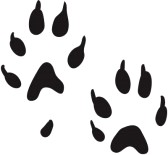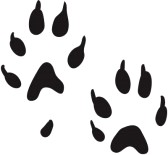 Hello Florence! I just wanted to let you know that we got the bedding here at Kings ferret rescue! I'm sorry I did not let you know sooner, things have been extremely hectic, either way I want to thank you so very much from the bottom of not only my heart, but from all of the ferrets as well! You guys went absolutely above and beyond. what you guys do is absolutely wonderful. I know I not only speak for myself, but all the shelters that you guys help when I say keep doing what you're doing, you guys are truly angels on Earth. I've attached a few pictures of some of the bedding set up as well as some of the ferrets enjoying the bedding! thank you again so very much. Please let me know if there is anything that we can do to thank you guys for wonderful this wonderful thing you amazing ladies have done. I hope you don't mind, but I also attached a picture of one of the reasons we've been quite busy… Our foster dog had puppies! Anyway, please let me know if there's absolutely anything we can do for you guys. We hope you all have a wonderful week, and thank you again.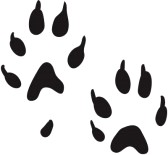 Thought you would like to see that the barrel is a big hit!!!  There were more inside toward the bottom of the barrel.
Thank  –  Mason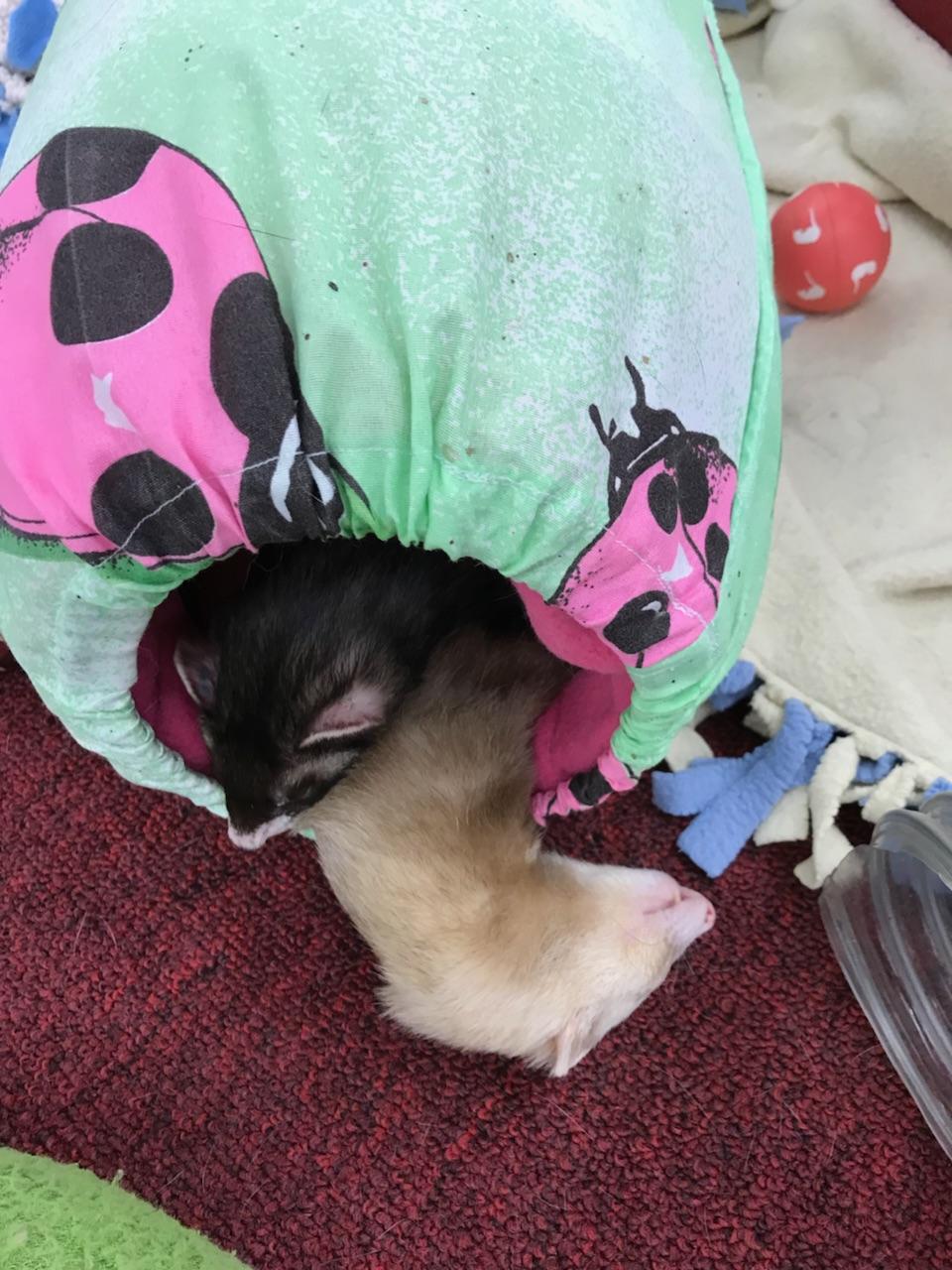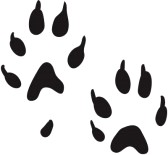 We received your wonderful box of goodies today for the shelter babies.  We are so incredibly grateful for your generous donation and all the hard work that goes into putting these amazing bedding pieces together.  You all are true angels!
With much love and huge hugs,
Sue Holme, Director
Ferret Underground…A Wisconsin Ferret Rescue, LLC 501.c.3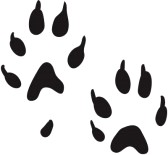 I don't get that much for Christmas — thank you all at Crafty Weasels for all the great bedding, and toys – they are always needed – its amazing how much damage the ferrets can do in just a few months, and new bedding is always a treat for them – and the cages look so festive…the carrier hammocks are fun for the ferrets, always fun to see how many can get in one hammock.  I have had a full house recently, as one of my volunteers, a very special lady and her husband, had a medical problem (he did) but it kept her busy for over a month…open heart surgery – so I had her 12 ferrets for the time he was in the hospital, and when he came home, till she was comfortable taking care of him and the ferrets…made life interesting, but they are back   home now, and all is better.Again Many many thanks for all the goodiesHugs all aroundMason Lowery and  the Indiana Critters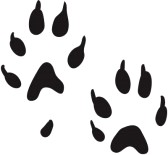 Holey Cow!!!!! You and the CW gang not only made me a ton of beautiful and very functional bedding, but I could feel the love in each piece!!!  I'm blessed for you all to have done this for my shelter.  I'll be replacing the bedding this week and will send a few pics!
One of the things I love about ferrets is that they show gratitude.  As much as I enjoy the new bedding, they do too!  I can already expect them to leap and play in the new fresh bedding!
From the bottom of my heart, I'm grateful and please extend to the crew my appreciation!
Love,
Barb Clay
Rocky's Ferret Rescue & Shelter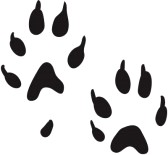 Please extend my thanks to everyone for the generous beautifully made bedding, carrier, and toys for the ferrets! Much more than anticipated! The carrier hammocks are cleverly made with the button attachment and the sick fuzzy carrier will certainly be put to good use for the seniors!
Salem was quick to tote off one of the toys to his hidey hole as soon as he noticed it!
Thank you so much from me and fuzzies!
Troy Lynn
Ferret Family Services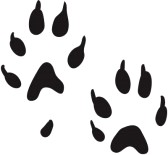 Florence,
Thank you for sending GCFA the wonderful bedding from Crafty Weasels!
We have 100+ fuzzbutts now and each time a few go home, we receive more in a few days.
Thank you for helping us with this lovely bedding.
The Crafty Weasels provide an important service to shelters.
Thanks again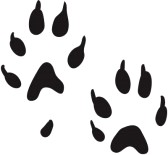 WHOO_HOO! I got an awesome package of goodies from my favorite ladies (and gentlemen) of Crafty Weasels! AWESOME! It is truly Christmas in July and how on earth do you get so much in that box? I started at the top, oohing and ahhing and kept going…and kept going and kept going! So many pretty hammies and I am thrilled! And perfect for Louie, who soils his 2 or 3 times daily, poor sweetie.Especially exciting, I spotted a familiar fabric too! I am pleased beyond belief! Now to connect with Ann and get this load of fabric down to you….hoping she is feeling better and ready to roll this week–calling her tomorrow…thank the ladies for me , over and over…and the guys! ❤
Brenda Taylor
Five points ferret Shelter in Indiana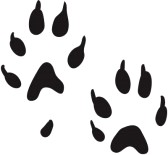 Dear Florence,
                           I am absolutely without words to thank you and the Crafty Weasels for your very generous donation to us. I wish I could tell you how happy the kids will be with all this amazing stuff. I don't know how we were fortunate enough to be included in your gifting, but rest assured the things you sent are so very greatly appreciated!
Mike High
Director, Weasel Way Ferret Rescue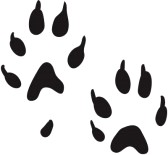 Our box arrived a few days ago. Thank you so much for  remembering us <3. 
The bedding is bright, and beautiful, and expertly crafted
You guys do so much for the ferret community, and it's a shame  there isn't more recognition & thanks for all of the comfort you have given  to ferrets everywhere. You and your crew are just the greatest!!!
With much love & appreciation from Zoo and all of the ferrets  at 
 Zoo`s Ferret Sanctuary, N.F.P.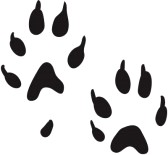 We all were very touched by the quality and amount of bedding. The cozy carrier is so precious and will be very useful for older ferrets. We also love the fact that the hammocks also double as cuddle bags. Amazing work! As soon as the new bedding was added to the cage we had one ferret climb in the hammock and another carpet sharking the shelf sack. I added a hammock and shelf sac in another cage and Boo Boo who is a very sluggish, large fellow with the sweetest little face was trying to stuff himself into the hammie before we hung it! The firecracker toy was also a very big success. We would like to thank you very much for all of the wonderful work you do throughout the year.
Sincerely,
All of us here at Fuzzy Friends Ferret Rescue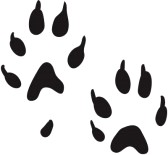 Hi Florence & the Crafty Weasels
Just wanted to let you know that we receive our package of ferret bedding today.  We can't tell you how excited we were with all the different types of items.  Hammocks, Sleep Sacks, Hammies for Carriers and the square Wonton Hammies.
The fabrics and quality are outstanding!  We know you all get together and have sewing days for shelters like ours and we are so thankful for all you do for us.
Together, we can make a difference in the lives of these ferrets that are abandoned, abused, neglected and sick.
Thank you from the bottom of our Hearts!
Blessings to all of you during this Season of Love and Giving!

–

Matthew Jaramillo – Director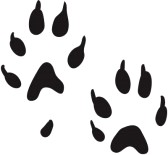 The box has arrived!  It's a rather large box, and stuffed to the brim!    Wow!  We certainly did not expect to receive so much! Everything is absolutely gorgeous.  Many thanks to all who have contributed to the creation of these wonderful items.I must say that the flower hammies are very creative.  I know that our guys will enjoy!  The sling was a pleasant surprise.  I have had on my "list of things to do" to get one of those slings, but didn't know where to find them.  I frequently carry sick ones or just the old ones around the house while I do my chores.  It's amazing at how the movement of your body and the heartbeat, body warmth really is stimulating and comforting to the ferret.  Previously I have used just a pillow case with rope.  The sling is perfect, in that it is adjustable, and it cradles the ferret with support.  Awesome!Please know that our gang of some 89 ferrets will enjoy your gifts – approximately 64 at the main shelter, plus the 25 at several foster homes.   Your hard work and crafty skills are very much appreciated!  Thanks to All!–Cheers,
~ K
Karen Lamb
Nirvana Ridge Ferret Rescue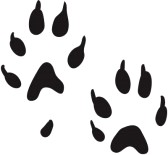 We received the box of bedding, toys and love. I can't thank you enough for this. We had a very sad stray come in and I wrapped her in one of your hammocks. She was very sick but cuddled up and relaxed. She knew how much love was around her with the hammock. Alina left for the Rainbow Bridge the same day we met her but she knew comfort with your loving bedding.
Thank you for all you do
Kathy of Sammy's Clubhouse Spokane Ferret Rescue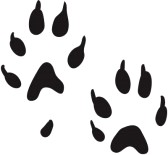 Hi Florence,
When I arrived  home yesterday, there was a HUGE box of bedding for my guys & gals! I am so grateful, thank you, thank you, thank you! I've been  buying fleece blankets from Walmart, and was down to my last unopened small sleep hammock. I've gotten so I wash the hammocks by hand, and hang out to dry, to save wear & tear on them.
I handle all of the geriatric, terminally ill ferrets; I'm the hospice part of RFRL. I'm down to 15, which is the lowest amount of ferrets I've had in 17 years of sheltering. I send other incoming ferrets to a few volunteers, or to Nirvana  Ridge, a new ferret shelter opened by a good friend of mine.
The old ferts are my favorites, always have been. Although they tend to poop on themselves, in their hammocks, on their cagemates or wherever they just feel like it, I love their determination  and will to live.
Thank you so very much!! I'll be changing out bedding all day and will post pics on my FB RFRL  page, as well as my own. Hugs.!
Sincerely,
Marlene  Blackburn
Director
Richmond  Ferret Rescue League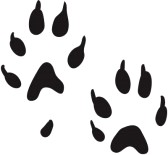 I wanted to let your group know that Ferret Haven received the box sent to us. Thank you so much for the great goodies. I can't wait to try the sling with one of my older kid! You folks are the best!
Paula Woodland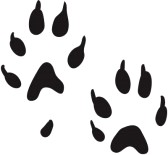 Hello Florence,
         Words are not enough to thank you ladies for the wonderful new hammies we got today from you, Thank You, Thank You, Thank You.  I was doing ferret cages today and their hammies were so sad and now I can put all new one in for the babies.  You ladies are so wonderful for what you do and again thanks so much the fuzzies here at Luna's thank you also.
Laura C. Gardner
Luna's Ferret Shelter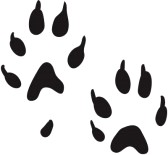 I was so Thrilled to open your box of goodies for my fuzzies!!!
They have been exploring the bedding & the box.
I have a couple ferrets that "love" plastic bottles so the covered bottles with rattles were grabbed right away!!
Oh & the braided toy as well!! lol
I have several sick/recuperating ferrets right now- in all 15 ferrets.
Thank You so much for doing this wonderful & MUCH appreciated box of Happiness!!
Bless all you ladies for the time & effort you put into this!!!
Again THANK YOU so much!!!!
The fuzzies said- "Dook-a-shane" ladies"!!!
- Bette Pullins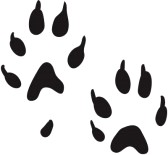 Florence & ladies:
Thank you so very, very much for the much new bedding.  We're more of a sanctuary than a shelter.  We do not adopt out any of the ferrets we get in.  As the babies get older they can't always make it to the litter box (or they just don't bother) or the bedding gets push/pulled through the litter box/poop.  The younger ones like to scratch the floor/bottom of the bedding.  After a while the bedding gets holes in it or gets too dirty to wash.  You can imagine how much bedding we go through.
I love the comfort sling you sent us.  Our oldest lady (who's almost 9) likes to cuddle up in it and ride around with me all day.  They all love the toys.  It's hysterical to watch 2 or 3 of them try to grab and stash the braided toy all at the same time.  We haven't tried the carrier hammy yet.  I'm saving it until we head to the Michigan show.
I do apologize for not contacting you as soon as we received the box.  My daughter has been ill and in the hospital.
Again, thank you all for the wonderful bedding.
Jan Atkinson
Wixom Weezels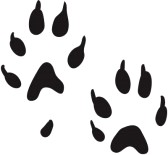 Hi Florence! I received an absolutely beautiful box of bedding and a sling today! I don't even know how to thank you ladies! You are all wonderful! Thank you so very very much!Jill
The ferret manor rescue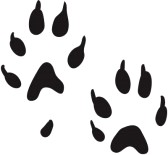 Dawn, a shelter mom in California, received a comfort sling for Dakota, who loves it!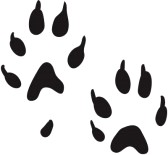 Photos from the Washington Shelter furkids enjoying their new Crafty Weasel bedding.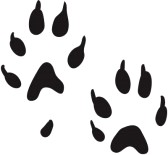 Just wanted to let you know how much the kids love love  LOVE their bedding. Ferris, our fragile little rescue naps in the sleep sacks all the time and has napped in the sling as well…THANKS!
Brenda Taylor in Indiana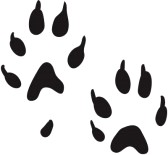 Thank you so much for all the bedding and toys! They are beyond awesome! We will be taking pictures and posting them to our rescue page. Bless all of you and again thanks.
Sincerely,
Brenda and Maurice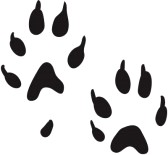 Dear Florence and the Crafty Weasels of Georgia,
Thank you so very much for your generous donation of the box of beautiful bedding for our homeless fuzzies in the GCFA shelter!!
Your amazing sewing talents, love and thoughtfulness are extremely appreciated by all of us at the GCFA ! As Tracy told you I will make sure to keep this precious bedding in a safe, off site location until we are in the cleared of this nightmare.
Please pass along our thanks to all who worked so hard on making sure our ferrets, who have been through so much, will get this wonderful bedding!
Thank you all!!!!!
Take care, Patty
Patty Petrillo
Greater Chicago Ferret Association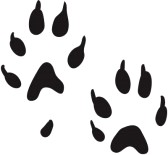 THANK YOU sooo much!!! to Florence Love and the Crafty Weasels for sending us some cage bedding!!! As always, they are sooo very pretty and you can tell are made with pure love!!
-Susie Riddle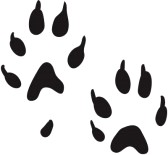 HUGE Thank yous to the Crafty Weasels for donating so many awesome sleepy sacks & hammies & toys for our ferrets!!!! Yay! Thank you to Amereta & Jeff for bringing all that great stuff here!
- Critter Camp Exotic Sanctuary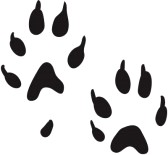 The package arrived yesterday .
Thank you very much.
My fuzzies are having a ball.
Rainbow Ferret Rescue
Jim Hart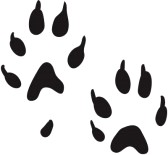 Just a quick note to let you know that the box of  bedding arrived yesterday.  Thank you all so much for everything.   I've posted some pics on our Ferret Dreams Rescue & Adoption Facebook page  for all to see.
Thank you all for helping us and all the other rescues  around the country.
With much appreciation,
Matthew & Lee, Directors
Ferret Dreams Rescue & Adoption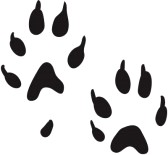 Oh my goodness!! I am totally speechless at the wonderful box that arrived tonight!! I am so very excited to hang it up for all the kiddos, and see what they think! It is a beautiful thing you all do, and the kids have already had a blast with the noisey toys! We, and they, are very grateful for the package, and thank you from the bottom of our hearts! As the little ones we have taken in are adopted out, we will be sending pieces of your beautiful bedding with them, so they will have something wonderful to nap in, and will pass the contact info of your group on to the new family. I will be putting pics of the bedding up and your contact info on our page, Ferretpallozza, tomorrow evening when I get home, got home late tonight. We are truly grateful for the wonderful box of goodies we received tonight, and please let us know if we can re pay you in anyway!!
Maggie and Jamie, along with  Claire, Fredi, Amber, Sampson, Daisey, Apollo, Bear, Oscar, Bonnie, Clyde, Hercules, Pete, Jasper, Gibson, Sable, Daphne, Bolt, Sawyer, Zeus, Posiden, Pixie, Wolfy, Bandit, Moose, and Gilbert!!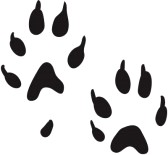 From: Debbie Saunders
"I got a super duper package delivered today!  I swear you guys & gals are the best.  My very first favorite was the Garfield & Odie one, until I flipped it over to see the Teddy Bear Baseball ones, then it was the Flower Power ones, THEN the Mardi Gras ones… and my favorite changed with every new piece I exposed!  Over a dozen beautiful sleep sacks & hammocks.  The Firecracker toys are already a hit with the kids & there is a whole lot of shakin' going on, let me tell ya!  And the Comfy Sling is great for those that need a little reassuring.  That really comes in handy for the hospice part of what we do here.  Plus I was very happy to see another braided toy.  Golly my kids LOVE that design! You all have seriously out done yourselves.  If I wasn't so tired right now I'd be changing out all the bedding just so I can add all this color to the cages!  May be after a power nap….. Thank you so very, very much!"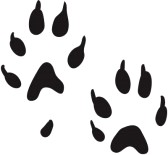 From: Keith T Krysz, Fathers Natures Ferret Rescue
Florence and all the members of Crafty Weasels of Georgia, I can't thank you all enough for your continued support of my rescue. Folks like you make it possible for me to spend the very limited cash I receive on medication and surgeries. Your beautiful bedding and toys enrich the lives of these forgotten and sometimes abused babies we all love so much. From the bottom of my heart, THANK YOU ALL!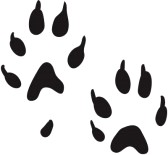 From: Katharine Long- Tallahassee Ferret Rescue
I received your wonderful package of goodies today.  It will be so nice to replace all of my worn out bedding with some pretty new items!  My old bedding will be recycled to our wildlife rescues. The work that you do is so wonderful and a true blessing to the ferret community. Thank you for everything that you do!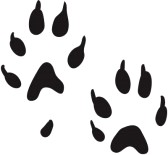 From:  Lisa Vaughn
Wow!  Thank you so much for all the bedding.  Our rescues love the bed hammock combo, but we didn't have enough to provide them for everyone.  Now everyone has one.  Everything sent is being used.  I am so happy to see that big'ol Brutus fits comfortably as do our bonded pairs.  The sling is an awesome design.  All the humans and ferrets at Navarre Ferret Rescue send you a heartfelt thank you.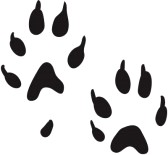 From: Kathy of Sammy's Clubhouse Spokane Ferret Rescue and Education
I can't thank you enough for the generous gift of hammocks and the perfect comfort sling.  Our old man Henry just had to try it out after I opened the box. You all do such a wonderful thing.  I am truly greatful for all that you have and will do for the ferret community. Thank you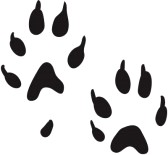 From: Angela Showalter
We received a wonderful package today full of hammocks & sleep sacs and toys and my favorite the comfort sling. I can not thank you enough for what you sent. It all will be put to good use. Sephy has already picked out her favorite set and toy. Lol. Angela
From: Ferret Dreams Rescue & Adoption Date Sent: Nov 15, 2010
We received the package of bedding today and are so thankful to you and all your volunteers for such beautiful bedding.  Winters in Colorado can be very cold and the bedding feels so comforting and warm.  During this season of giving, of sharing and of hope, we thank all of you for giving of your time, sharing your talents and hoping that all shelters ferrets around the country are kept warm and safe. With sincere thanks and appreciation Matthew & Lee
From: Furetti Ferrets Date Sent: Nov 15, 2010
We received your package today….wow…. you guys are truly awesome
Thank you so much for helping us out, I really appreciate it. Tell Karen the crinkle sacs passed- inspector Frankie loves them. Frankie (my paralyzed ferret) has already tested out the crinkle sacs and stashed the toy you sent.
Please thank everyone who worked on the items you sent us- every piece will be used – we use an insane amount of linens every day.
Thanx to all again- the ferrets are enjoying the bedding.
Happy Holidays to everyone Cathy
From: West Michigan Ferret Connection Date Sent: Oct 19, 2010
The wonderful box of bedding arrived this morning. THANK YOU! The kids are going to love it. Dee Gage
From: Zoo's Ferret Sanctuary Date Sent: Oct 15, 2010
I am happy to say that the pocket hammies they sent us several years ago are still in use after many, many washings, as well as the adorable sleepysacks! I know how much time, dedication, and financing such a project takes.
Crafty Weasels, for YEARS now, you have given & given to shelters in need. You`ve bought the material, spent the gas money to drive from afar on sewing day, and even footed the bill for the postage to send it. All at no cost to the shelter ferrents. All out of your love for the animals. All with little to no recognition… A simple thank you note is not enough. You cheered up a shelter mom who had sat up all night with a sick baby. Getting that box was encouragement to go on. Seeing the little ones all cuddled up in their new pocket hammies made a ferret dad smile. But most of all, you gave warmth & comfort to so many sweet, sweet little babies—everywhere.
Maybe you don`t think much about the bedding you worked on, after it leaves your hands–but believe me, it makes a wonderful difference in lives, both ferret & human, for a very long time. Thank you, so very much…
May God bless you richly. Love, Zoo
From: Zoo's Ferret Sanctuary Date Sent: Sep 29, 2010
Thanks so much for the pretty new bedding you sent our furchildren! I love the bright colors, and the babies love the comfortable feeling it provides.
Many thanks to all at Crafty Weasels! Love, Zoo
From: Ferret Guardian Rescue Haven, Inc. Date Sent: Sep 21, 2010
Because of the generosity, love and overwhelming caring you all pour into creating such wonderful bedding, another shelters babies  will be warmed and comforted tonight.  And, another shelter mom can rest a little easier knowing they have what is needed.    You people are so awesome!!!  I can't wait to get the sling…  Thank you all so much for all you do to ease our burdens and worries.  I think I can speak on behalf of all shelters when I say all of you are  really appreciated more than you will ever know!  Thank you soooooooooooo much!!! Diane
From: Safe Haven Animal Rescue for Ferrets Date Sent: Aug 27, 2010
I just wanted to let you know that the package made amazing time and arrived today!!!  Everything is absolutely wonderful!  Thank you all SO much for what you do.  No store bought bedding can even compare to the quality, cuteness and comfort of these items.  Our ferrets are going to just be beside themselves. 
  We will definitely pass along your cards to adopters and anyone else that expresses interest.  Thanks again!! Stephanie
From: Northern Arizona Ferret Alliance Date Sent: Jul 29, 2010
Imagine my surprise to go to the post office today and find a wonderful present for our shelter kids.  It seems bedding is always in such short supply these days, with the huge influx of homeless fur kids we have had.  It is terrible that this economy is hurting so many innocents, confused little pets who have no idea why their owners have dumped them in a shelter. I love the little sling, your timing is perfect!!!  Recently, a little six year boy came to us.  We did not expect him to live, the other ferrets in his business were just walking all over his lifeless body in their cage.  He was rushed to the vet, and diagnosed with an inoperable spinal tumor that is most likely malignant.  I did not have the heart to send him to the bridge…not yet…something in his eyes begged for understanding.  I had him put on steroids and pain management.  That was three weeks ago….today, Mr. Bigglesworth has put on weight and is able to drag himself…rather quickly and efficiently, on his hips.  He stashes toys and chases the kitty now.  The light in his eyes and the love in his kisses tell me I chose right.  Biggs follows me all around the house…when he can keep up.  He LOVES his new sling…cause now he can follow shelter mom all over and beg for treats, which he has become very good at LOL!  I am attaching a picture of our sleepy Biggs…and my sincere thanks for your thoughtfulness.
Bonnie Tormohlen
From: Tallahassee FL Ferret Rescue Date Sent: Jun 17, 2010
(Posted to the Ferret Mailing List)
What a great surprise to receive a huge box of bedding from the sewing wizards at Crafty Weasel Bedding! The bedding is beautiful and is greatly appreciated by myself, my rescue partner, and all the little ones in our care.
Thank you so much for the wonderful work that you do. Katharine
From: Mommasferrets Rescue Date Sent: May 20, 2010
We received our box yesterday with all the great hammocks in it. Thank you so much, the fur kids love them. Deloise Boruff
From: WeezleWings Ferret Sanctuary Date Sent: May 19, 2010
(edited to reflect portions of original message that pertained to CW bedding donation)
OMG TY /cry. Our washer blew up. These were sorely needed. Thank you so much. We had to help my 10 yr old, Pontoof, to the bridge a few days ago and I have another one about 9 going down and the sling is badly needed.
Thank you, thank you. I am crying tears of joy. I am just overwhelmed and very emotional right now. You Crafty Weasels are a godsend and when and if I ever get caught up I will do what I can to help you. Maybe send you the ferret Christmas stockings I make to include in your Christmas send outs to shelters for the director/owner. They're awful cute. But I can't sew. I wish I could. Please expect your hand/paw made thank you card in the mail as soon as I can get a handle on things.
The box was glowing w/love before I even opened it! And trust me I had help doing it…some of the eggs were grabbed before I could even determine what color they were. Only caught a glimpse of them being carted off very speedily to a hidey hole before some other furball got the chance! We appreciate you all soooo much. You have no clue. TY again. Xoxo Susie and the fursnakes
From: Van Deman Ferret Rescue Date Sent: May 12, 2010
I don't know what to say other than a massive thank you to all the people at Crafty Weasels. Winter has just set in here and it is FREEZING, in fact we have had two carpet sharks with colds already and it is only going to get colder, they are saying it's going to be one of the coldest winters on record. So from all of us here at VDFT, thank you so much!! Nikki
From: Last Chance Ferret Rescue Date Sent: Apr 27, 2010
We just received the boxes of bedding. Wow! I can't thank you enough. The pocket hammies and floor mats are just what we need. I can't wait to start switching out the older bedding.  Please thank everyone involved in this wonderful project.  Would it be alright to add a link to your website on our website? I'd love to be able to send people your way.  Please express my gratitude to all involved. What you are doing makes my heart a little lighter, knowing there are still people willing to make sacrifices for these wonderful little critters.  Thank you again from the bottom of my heart. Diane Bodofsky
From: Angel Paws Ferret Rescue Date Sent: Apr 27, 2010
I got the lovely bedding. It is great to have bedding in the cages that is soft and not falling apart. Everyone seems sooo much happier and sleep so much better. Thanks so much. Deanna Price
From: Ferret Family Services Date Sent: Mar 9, 2010
The package arrived and last night I put the new hammocks in the cages.  The boys should feel like they're in a palace of luxury today!  They fit very well in the cages and the plushness is amazing.
Thank you for the extras.  I  used the sling for Skippy last night. He's an oldster and has adrenal and insulinoma.  Somehow he got in the bottom bin of one of the big cages (I suspect he had 'help' since he coudln't do it himself) and because he is blind he couldn't get out because he ran into the high sides in every direction.  His glucose was low from stress so he spent some time in the sling, then after he has an accident in it later in the evening it went down to the washer while he slept in the sleep sack.
The hammocks are perfect and I'm sure both cages of boys are very comfy today.
Thank you so very much! Warm hugs! Troy Lynn Eckart
From: Nikki Barnett Date Sent: Mar 7, 2010
(A few months ago someone posted a news article on the FML about a military man that loved ferrets that had just died in Afghanistan. He and his wife lived in California and they had pics of him with his ferrets. We did a bit of research and got their address and sent a message to his widow letting her know that the Crafty Weasels wanted to give her a gift for her ferrets to honor her husband who had died on foreign soil so far away from his ferret family.
This is the message that we received.)
This Nikki Barnett and I just wanted to say thank you so much for the ferret beds! Kodo, Angus and Mickey absolutely love the beds. I put them in right away and all 3 immediately left their old beds and have been using yours since. I was so touched by your gift to them, our ferrets were Scott's favorite pets. We were waiting until after his time in the Army was done before we had kids of our own so our pets are our children. Scott would be so happy to know that somewhere out there someone was thinking about his beloved ferrets enough to make them beds that they are so happy with.
Our first ferret, Kodo, the white ferret, was his baby and Scott was always so worried about him and as he got older when Scott was away in training Scott would ask me to check on him before bed each night and make sure he was warm enough because he was always so worried about him. Kodo has taken a liking to the hanging hammock you sent, he loved his hammock but he also loved to hide in fleece fabric so this one provides him with both of his favorite things and keeps him very warm. When I look into the cage and see him curled up in it with only his little face sticking out all I can picture is Scott's smiling face because I know he is looking down happy that someone out there other than me understood his bond with our ferrets. Thank you again for the beds, that was very sweet of you to send them. To me and Scott that would be just like someone sending a quilt to a child who lost a parent and I can't thank you enough, the ferrets really enjoy them.
Thanks again! Nikki Barnett
From: Hudson valley Ferret Rescue of NJ Date Sent: Mar 2, 2010
The box arrived yesterday!!  I love everything!!  And that shoulder sack will come in handy because I have a lot of sick ferrets that I carry around all day in my arms.  I can't even express how much I appreciate this.  Everything is made so well and they are so cozy.
I'm going to show the bedding to the people that adopt from me, I'm going to give them your card, and I'm going to recommend that they contact you to purchase their bedding.  I'm also going to post a thank you on my website to all of you, and I'm going to put a link on my site directly to your site.
Please thank everyone that helped out. I really, really appreciate all of their hard work and dedication. Sincerely, Lorri
From: Ashley's 2nd Chance Ferret Rescue Date Sent: Jan 31, 2010
Thank you so much, all of it was beautiful and much needed. I am so glad and I know the ferrets are just loving it. It came in great time as I just helped another rescue that is downsizing and I received some of her babies bringing my total to 28 ferrets. What you do is such a God send and the rescue is loving it. Keep up the great work and God bless all of you. Ashley Jarrells
From: Critter Camp Exotic Pet Sanctuary Date Sent: Jan 29, 2010
Thank You Thank You Thank You to Crafty Weasels of Georgia!!

We received a huge box of wonderful sleep sacks, pouches etc. from them today for our elderly & ill ferrets! Our precious babies will be snoozing in comfort now!!
We get an extra warm & fuzzy feeling inside thinking of the kind people who  reach out and care- helping us care for the furries that need us! Thank you! Beth
From: WeezleWings Ferret Sanctuary Date Sent: Jan 29, 2010
[Regarding a donation to help with their raffle] We had no idea we were receiving them and were so surprised!!!! They are soo nice and we're very very pleased w/the quality and the thoughtfulness that u sent them to us.they glow w/all the love that is sewn into them. We would looove to keep them ourselves. (that is the hard part of all of these wonderful donations)…but we're not going to allow ourselves participation since it is to help us. Whoever decided to stick that whippy 3 ended thing made out of fleece caused a chaotic free for all that has lasted a week in this house. Lol!!. The fursnakes (even the 10 yr old one) are actually FIGHTING over it. I am having a hard time keeping it where I know where it is . Lol..ya'll have no idea how much joy you have brought the babies here w/that thing. What is it called? Lol. I so wish I could sew. Thank you soo much and your hand/paw made thank you  card is in the mail already.
xoxo Susie
From: Tinkerbell's Fuzzy Friends Ferret Rescue Shelter Date Sent: Dec 21, 2009
Please forgive me for not contacting you sooner to thank you & let you know that the donation package of goodies arrived safe & sound weeks ago! I have been without internet access & am disabled. My sincere thank you for all of the fabulous new sleep sacks, toys & medical supplies! All were put into use immediately! Had been awhile since my business had received fancy new fleece lined hammies & sleep sacks & I have 14 ferts that love ya'll very much for your gracious donation & for thinking of us & providing us with such needed aid! Thank you, thank you, thank you! Can't thank you enough!
Again, just really wanted you to know what a great help y'all are to us out here! My babies are sleeping warm & cozy tonight because of your help! Thank you again so very very much for all the lovely things for my shelter & our 14 babies! God bless you & have a merry Christmas & happy holiday season! Sincerely, Jennifer Lackey
From: Ferrets Unlimited Rescue Services Date Sent: Dec 2, 2009
We have received the bedding and we greatly appreciate it!!!  I took it to the meeting last night and everyone was very happy with it!  Some of it was passed to our foster parents and the rest came back to me as I am the one with the most ferrets going in and out of the shelter.  Also when we adopt out if a ferret has a favorite hammock or sack we always try to send it along with them to their new home.  We feel it helps them with the transition of a new home.  Not sure if it really does but we like to think so.  Bedding is always in great need because of that.
We will put the sling to test on Sunday at our fundraiser.  Our little Winken will be the test subject for it.  He is an older guy and blind as can be.  He loves to snuggle.
Again BIG THANKS to everyone who donates their time and talents to the ferret cause!  We sincerely appreciate it!  Crystal L. Walko
From: Dodger's Den Date Sent: Dec 1, 2009
We received our package and wanted to thank you for all your hard work. The bedding is all so beautiful.
Thank You!!! All of the fuzzies at Dodger's Den thank you too. They love their new bedding. I used the sling last week with an older fuzzy (Amber) that was under the weather. I loved it because she was with me all the time, and I was able to tend to the others without leaving her. A thousand thank yous. Thank you so much and God Bless, Bevis, Theresa & our 17 fuzzies
From: Colesferry Ferret Home Date Sent: Nov 29, 2009
Thank you again ladies. Here are a few pics of the kids enjoying some of the beautiful bedding you sent, and they all send their love and thanks
God Bless You Sweet Angels Tim
From: Heaven Scent Ferret Rescue/Shelter Date Sent: Nov 10, 2009
OMG but this is AWESOME bedding as usual. Such lovely colors & soft/warm hammies/sacks to match. My crew is ever so thankful to all you caring ladies.
The sling for the sick baby is just a blessing.It will sure be used & I wish I'd had it with Nancy. This will help so many shelter ops out there.
To all of the Crafty Weasels, many heartfelt thanks go to you for all the love you put into the bedding. And it sure holds up to many washings. Sandi Robinson
From: Kansas City Ferret Hotline Date Sent: Nov 3, 2009
Box arrived!  So many beautiful things in it, we are in overwhelm.  I intended to get a note off to you right away but had a family crisis over the weekend and have been mostly on the road the last few days.  Please accept our electronic thanks in the meantime.
From: Forget-Me-Not-Ferrets Date Sent: Oct 26, 2009
I wanted to let you guys know I received the box of bedding today, and I am speechless. The ferrets are not however, and they are sending you many dooks of excitement and delight!!!!
This is an amazing and wonderful thing that you guys are doing to help, and it means more to me than you can imagine. At times you see so many bad things with the way people treat their pets, it is easy to forget how much good is out there too.  Thank you for helping to remind me that there are many truly caring people out there. Caring people who truly want to help, and I thank you for that.
I give bedding out with each ferret that goes to a new  home so they take something familiar and comforting with them. Doing this I truly believe is a good thing, helping them adjust to their new home while retaining something familiar, but it does at times get expensive. It is worth it though, and this wonderful box filled with bedding will help so much! Thank you guys so much, it will be put to very good use. Daphne
From: Colesferry Ferret Home Date Sent: Oct 1, 2009
All I can say through happy tears is God Bless Y'all. I could not believe all of the beautiful bedding and the eggs that you sent; you all are truly A God send, words cannot express enough how much your love and caring for us means .. I know God holds A special place in Heaven for each and every one of you Angels .. I can never Thank you enough and the kids are going to love it God Bless all you Crafty Weasels and Thank You For Loving Us .. Tim, Cheryl & Colesferry Ferret Home Kids
From: Ferret Hospice House Date Sent: Sep 1, 2009
Package Attacked by Bandits!
I Just received your box of goodies. WOW! I had no idea. This is a gift from heaven for me. The sacks and bedding I have is over 5 to 12 years old and nothing is free of snag strings. Your bundle of love is just what my kids need. Thank you all. I have attached some pictures of the fuzzies pulling out the goodies and digging in the box.
David B. Brokaw
From: KC Ferret Hotline East Date Sent: Aug 17, 2009
OH MY GOODNESS!!!! I am SOOOO glad that you contacted me! We DID receive it, it is awesome! You guys just rock!
THANK YOU THANK YOU THANK YOU!!!! Stacey and the fuzzy bunch
From: Washington Ferret Shelter & Rescue Date Sent: Jul 26, 2009
I got the bedding today and oh my gosh!  It's gorgeous! Thank you SO MUCH!  That's just so awesome that you are out there doing this for shelters! I'll have to get some pictures of it in use to send.
Thanks again! Kevin @ WFRS
From: Ferret Haven of Spokane Date Sent: Jul 24, 2009
Hi,
I received the bedding just the other day. What a packed box! Thanks so much, the shelter kids are going to love it all, plus the toy! Paula Woodland Wannabe Wild Weasels