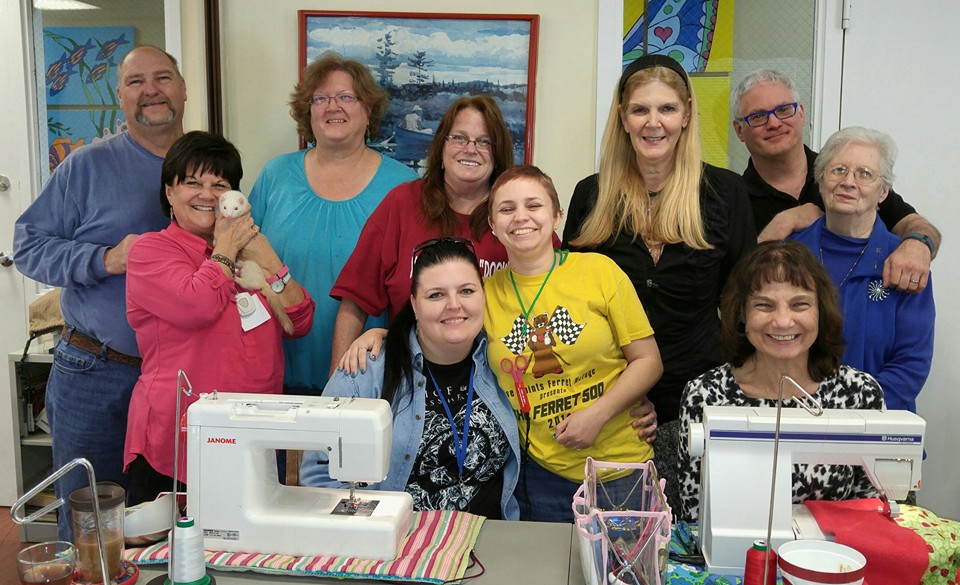 We had a really good sew day on Saturday.  Started with Sue bringing a cute little ferret ferret girl, Pearl, from the shelter.  Good thing that Karen had already volunteered to foster her because others were definitely putting dibs on her if she didn't go home with Karen.  Diana, the new lady from Brookdale, like Pearl so much, she took her to share with the other residents.
We got a lot of stuff started for next month, and still did a good job getting stuff completed.
Attendee were:
Sue
Karen
Florence
Jewelz
Jonathan
Iris
Morgan
Meliah
BJ
Jennifer
Bedding Completed:
5 – FN Sets
1 – FN Hammie
3 – Inside Outside Sleepsack
3 – Small Sleepsack
2 – Comfort Slings
Food was good as usual, and we were lucky, Jonathan was in a baking mood and made a pound cake and brought ice Cream.  It was perfect for our afternoon snack time!
So very blessed to have such amazing people attend Crafty Weasels sew days … you know, you all are my heart family.  Hope you all have a very good month, and hope to see you all there May 14th.
Florence